AutoCAD for 2D architectural drawings
Computer-based drawing programs simplify the process of creating drawings. A drawing in such applications is accomplished much faster than those on a real sheet of paper, and if an error is made, it can be easily fixed in a couple of clicks.
Therefore, drawing programs have long become standard in this area. But among software solutions in the field of drawing, there is also a difference between various applications. Some of them have a large number of functions suitable for professionals.
Other programs boast a simple appearance that is great for beginners in the drawing.
AutoCAD
AutoCAD is the most popular two-dimensional and three-dimensional design and drafting program for drawing schemes, furniture for houses, etc.
It is this who sets the standards in computer engineering. Modern versions of the application contain just an impressive amount of tools and opportunities for working with drawings.
Parametric modeling speeds up for several times the process of creating complex drawings.
For example, to create a parallel or perpendicular line, you just need to set the corresponding checkmark in the parameters of this line.
The program is able to work with 3D design. In addition, there is the opportunity to set the lighting and texture of objects. This allows for creating a realistic picture of the presentation of the project.
Autodesk is involved in the creation of this software. It is difficult to imagine, but the need for drawing plans with a computer mouse appeared in the 80s of the last century.
Objective fact: this company is a pioneer in the market and at the moment – the largest supplier of software for the industry.
You can't argue with this, the company's reputation is serious. Software developers every year try to present to users, if not a completely new, then the updated and corrected version. Bugs, unfortunately, in such large software are not eliminated in seconds and require serious intervention.
What can be done in this program
Create two-dimensional and three-dimensional projects. This allows to fully imagine how the creation will look from the side, and greatly facilitates the search for errors in the drawings.
Many experts note the high quality of the models performed. Yes, some graphic editors have a similar arsenal and are able to create working drawings, but without special tools it is almost impossible to complete detailed projects.
Typically, architectural drawings contain buildings or parts of buildings, which consist of parts such as walls, windows, doors, roofs, stairs, etc.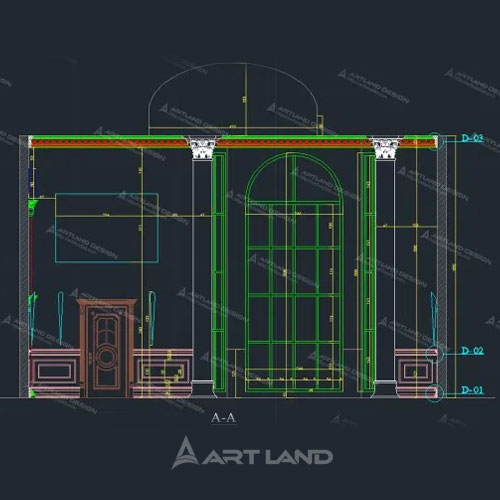 In AutoCAD (AutoDesk's core product), drawing primitives are lines, polylines, blocks, circles, arches, callouts, text, etc. The door to AutoCAD had to be drawn in lines and saved in a separate file (for reuse).
If the object has different geometry in 2D and 3D representations (or generally depends on the view direction), then all these options had to be drawn manually and placed in the right one.
In addition, in real-life tasks, drawings are often modified. For example, to move the window on the plan, we need to move the window itself, restore the wall in its place, and on the new one – draw an opening.
And then do the same for the 3D model. If there are more types, then one will have to make edits in each form. With such changes, it is easy to make mistakes or inconsistencies between species.
AutoCAD implements special tools and object libraries that facilitate and accelerate architectural design.
In AutoCAD Architecture, "window" and "wall" are objects that have relationships and behavior. The window "knows" that it is attached to the wall, and the wall knows about the existence of the window.
When the window moves, the wall will automatically change its geometry, creating a hole in the new door position and removing the hole in the old position.
When the wall moves, the door will move with the wall. If the wall is removed, then all the windows and doors that were in this wall will also be deleted: The drawing model is the same.
To make a two-dimensional plan view, you only need to switch the view. Editing any view, the whole model is edited. All sections and floor plans associated with this model are automatically updated when the model changes, which reduces the possibility of errors and inconsistencies in architectural drawings, and also significantly speeds up their creation.
AutoCAD objects communicate with design and construction documentation. Changes in the drawing automatically change the documentation, which avoids errors in it as well.
What formats does AutoCad support?
This program of graphic and geometric drawing is designed for:
DWG
DWG – created for storing projects, drawings, maps and photos. It was developed by Autodesk for the first option in 1982. Widely distributed in our time, as it is supported by other software.
DFX
DFX – is intended for data exchange between various CAD systems.
DWF
DWF helps to store documents that will later be printed. The data size is reduced, and this allows you to transfer the file faster over distances.
Most large companies, like ArtLand design studio, that can afford to invest a lot of money to purchase quality software, without any remorse, give huge sums for AutoCAD. What drives us to do so?
Great functionality, and no less – a universal toolkit for specialists in various fields.
Integrated with many services: cloud storage, Excel spreadsheets.
Works well in tandem with a 3D printer.
AutoCAD Features
Powerful three-dimensional design tools;
Ability to create custom shapes;
Saving works in various formats;
Large selection of dynamic blocks;
Import drawings from PDF;
Option to print using a 3D printer;
Allows to work with multiple projects simultaneously;
Parametric drawings, TrueType font support;
Flexible tools for creating project documentation.
Working with the architectural drawing in AutoCAD is that we draw the building not with low-level AutoCAD primitives (lines, circles, arches, etc.), but with the help of higher-level primitives, such as walls, windows, doors, roofs.
When the model is created, based on it, we can automatically generate documentation, 2D projections, floor plans, sections. The presence of behavior in objects facilitates the task of further modifying the drawing and allows maintaining the documentation up to date.
https://artland3d.com/wp-content/uploads/2023/01/Art_Land_Logo.png
0
0
admin
https://artland3d.com/wp-content/uploads/2023/01/Art_Land_Logo.png
admin
2019-09-12 18:44:29
2019-09-23 20:21:26
AutoCAD for 2D architectural drawings