Revit for 2D and 3D Architectural Design
Revit is terra incognita for many people. Obviously, progress does not stand still and makes the various related industries move forward. So, for example, with the advent of sufficiently powerful computers, architects and designers migrated from giant drawings and kilometer-long paper calculations to compact computer applications.
This step can be called truly unique because this kind of solution saved a lot of customer money and a lot of contractor time.
But it would be worth noting that thanks to the ingenious people – programmers, web – designers, can now create not just a 2D drawing, but a complete information model of the building, with all engineering systems, etc.
Why Artland uses Revit?
Everybody knows what role 3D max plays in the work of an architect or designer, but Revit is terra incognita for many people.
If we analyze the market for interior design and architectural design, today the leading design tools are AutoCAD and ArchiCAD.
Rendering is done in 3Ds max or a very extreme version in Artlantis and Sketch-up. Designers begin to draw on the computer as they did at the institute, with pencils and a ruler.
Each sheet of working documentation is a separate drawing. If you need to make adjustments to the project, then they need to be done on all the drawings.
Because of this, not only speed suffers, but also design quality. Just because of this approach, jambs at a construction site come up when the architect made adjustments in one drawing and forgets it in another.
Designer needs
Sooner or later, each designer needs to give drawings to the subcontractors, 3D-visualizer or other designers. Just at this stage, the most hardcore design begins.
At first, it seems to everyone that everything is fine and understandable. DWG files are perfectly exported among themselves and in 3D Max, but corrections inevitably come.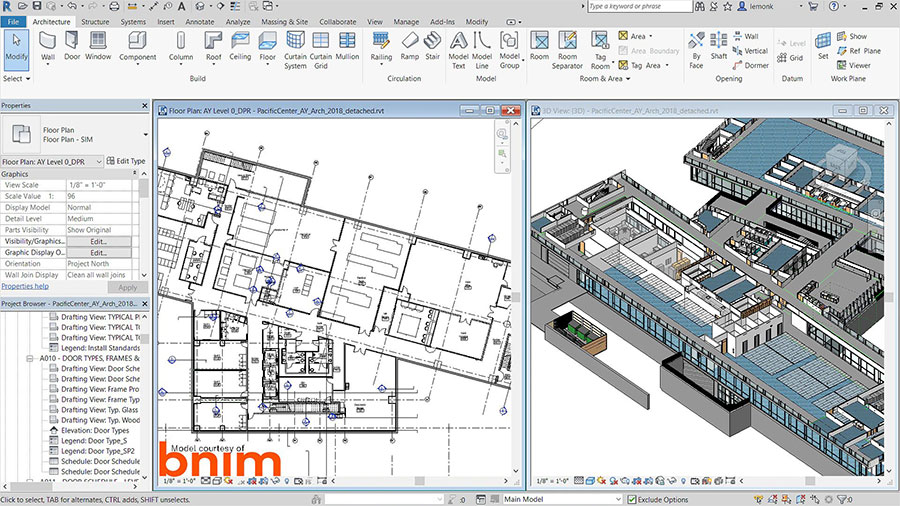 One of the main advantages of Revit is the connection of the projected object with the working documentation, that is, by changing something in the drawing, it will change in the documentation.
The possibilities are really wide, a lot of time is saved, all that is needed is to check the data and correct errors, if any. When the designer led the project and was himself a director, everything was not so bad, but now each project participant has his own file, with his own set of drawings.
And if the interior designer moves the partition into AutoCAD, he will need to transfer files to all project participants.
The 3D visualizer needs to upload new drawings and model in a new way. Thus, designers of this type are in complete chaos.
But, unfortunately, they are used to it and consider this design style to be the norm.
3D Modeling future
3D Modeling future buildings in Revit, and quick visas using pre-made templates – this is the future of the architect.
Revit provides tools for modeling architectural elements and engineering systems, designing, detailing and developing building structures, as well as construction.
Specialists of any field can use the possibilities of collaboration to provide shared access and save work in one project.
When designing in 3D, we save ourselves from eternal collisions at the construction site, and the supervision will be simplified many times over.
Based on BIM technology, Revit is created to design, build, and operate high-quality buildings.
Building Information Modeling (BIM) is by far the most advanced technology that can improve the efficiency of not only the design phase but also the construction and operation of an object, providing opportunities for making the best decision, taking into account all available data.
When designing in BIM, we already have the volumes of the building, materials and the approximate cost of the object, which is automatically calculated.
One no longer needs to recalculate the area of ​​the premises in the AutoCAD after the next editing of the customer.
If this is not an interior, but at least a cottage, you can connect designers in Revit Structure and engineers in Revit MEP. Working in a single repository file, all designers see changes in real time. There is no longer a need to verify the drawings and run around the office with a flash drive in search of the latest file.
Advantages of Revit
As already mentioned – the relationship between 2D and 3D types + their relationship with the working documentation;
A huge database of families, which are finished objects, from walls and standard foundation blocks to fixtures and sockets;
The ability to create ready-made objects and save to families, for example, in our template there are no new plates or farms specially released for the object – it does not matter, we just create new ones, the process takes a few minutes;
Options. The ability to create different versions of the same buildings, structures, and systems.
Stage. Support for various stages of construction, including the demolition of old buildings, systems or structures.
Stairs and railings. Separate modeling, editing and documentation tools for stairs and railings.
Models of systems correspond to their real counterparts.
Systems browser. Allows working with systems separately. You can select in the view only the system with which you need to work at the moment. You can get information about the total electrical load, air flows and fluids anywhere in the system.
As a result, it is possible to control the connectedness of the elements of any system and their compliance with the load requirements, which is important for the proper selection of sizes.
Materials for modeling. The ability to use the properties of various building materials in the design of building structures: brick, monolithic and precast concrete, wood, steel, and so on. The ability to combine materials.
Creation of an analytical model, accounting of reinforcement in reinforced concrete structures, arrangement of reinforcement in accordance with calculations;
Components of piping and electrical systems. In Revit, you can use components of various systems. For example, communication systems, data transmission, fire safety and so on. Simulation tools for cable trays and channels are also provided. Individual control devices and control panels make it possible to connect various equipment.
Calculation of simple designs;
Full communication with all Autodesk products;
The highest overall performance.
View our portfolio of 3D Design Object
https://artland3d.com/wp-content/uploads/2023/01/Art_Land_Logo.png
0
0
admin
https://artland3d.com/wp-content/uploads/2023/01/Art_Land_Logo.png
admin
2019-09-17 14:49:27
2019-09-23 20:01:40
Revit for 2D and 3D Architectural Design