3D Character Design Creator
The advent of computers has enabled man to create unimaginable worlds in virtual space. Instead of the usual brushes and pencils, the master artists took first a computer mouse, and later a stylus and a graphic tablet.
Three-dimensional computer graphics has become an integral part of the modern media industry. Almost every media product (presentation, video, animation video, computer game, film project, etc.) is created using the capabilities of three-dimensional graphics.
Often, the main characters in such media products are 3D characters. They can be people, animals, plants, various creatures, appliances (for example, robots), and sometimes even objects that are not living in the real world (for example, furniture, household or electronic appliances).
Three-dimensional graphics allow breathing life into each of them thanks to the capabilities of three-dimensional animation. But before the animator makes the object come to life, it must be invented and made.
Media industry
As we know, the media industry, at its current stage of development, includes a whole group of directions and in each of them, three-dimensional characters are used.
In the film industry, three-dimensional characters can be used as digital understudies of real actors, as well as to create creatures that do not exist in real life.
In television commercials, three-dimensional characters can be protagonists and advertise a product or service. In computer games, characters are needed to fill the game world.
In three-dimensional, animated films, characters are the main "actors", followed by the viewer and he finds out the story that these characters live.
development of such characters
Three-dimensional characters are one of the main attributes, without which it is difficult to imagine modern media projects. So where does the development of such characters begin and what does the process of creating them look like?
Even 10 years ago, this process was linear and very simple. Now it has many nuances and features, which are primarily determined by why this character will be used in the future and what type of industry he will be related to.
A huge role in this variety of technologies and methods for developing three-dimensional characters was played by the rapid development of computer equipment and software for working with three-dimensional models.
For example, the process of creating a 3D character for the film industry is different from developing the same character for a computer game.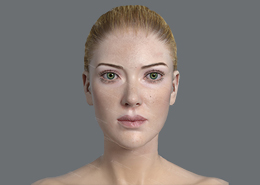 At the same time, even in the field of cinema, the same character can be created in different ways, depending on what task he will perform in this project. Therefore, it will be more correct to determine the main areas of the media industry, where three-dimensional characters are used and familiarization with the process of their creation in each industry separately.
3D Character creator
At the heart of any three-dimensional model, including characters, is an interesting idea. The idea can be submitted by a screenwriter, director, chief artist, or a character modeler himself (a specialist in creating three-dimensional character models).
Typically, an idea is a verbal description or a rough sketch of a character's image.
Next, a concept artist takes up the job (in a professional environment, a concept artist). As a rule, these are professional artists with the appropriate education who draw beautifully by hand, as well as using a graphics tablet.
In addition to owning the art of drawing and painting, these specialists are very creative individuals whose knowledge goes far beyond the field of fine art.
visual image
The main task of the concept artist is to develop a visual image of the character. Having on hand only a verbal description of the character of a rough draft, the artist must work it out in more detail.
As a rule, to begin with, make some rough sketches that show possible options for how the character will look. After that, these concepts are approved by management (director, chief artist, etc.).
characteristics
When an image is selected, the artist must work it out in great detail, taking into account the characteristics of the character. For example, such as: where does the character live, in what conditions, what does he eat, what does he do, what is his character, what is his age, etc.
When the image is ready and approved, the concept artist prepares additional images of the character.
Such as different types of a position of his body, various phases of movement, various types of facial expressions, large types of details of the character (clothes, weapons, ammunition, etc.).
All this material in the future will be transferred to the next stage of production and will help create a three-dimensional model of the character that exactly matches the drawn concept.
Areas of application of 3D characters
PC and Flash games
The widest application of 3D-modeling of characters is in creating heroes for games – from large desktops for PCs or consoles to Flash games online or for mobile devices.
3D games are dynamic and look more colorful, which allows you to find a greater response among gamers.
The first Wolfenstein 3D action game from id Software was released in 1992, and in 1993 the same company laid the foundations for the 3D shooter genre by launching the Doom game. Now, this genre of computer games is very popular.
The characters of all the most famous games are made using 3D modeling and animation. Among them, there are the heroes of Call of Duty, Prince of Persia, Deus Ex, Diablo, Far Cry.
Television
The main difference between the television advertising industry and film production, in terms of the production of three-dimensional characters, is that in advertising very often use cartoon characters, since realism is not always needed here. Because of this, the stage of creating high-poly character models for this industry is often not relevant. Therefore, the process of developing a three-dimensional model often comes down to three stages:
Creation of a three-dimensional model of medium polygonality or low poly model;
Creation of texture scans, textures, and materials for the model;
Preparing the model for animation.
Cinema
3D modeling has become an integral part of cinema – films and cartoons are full of 3D characters. Sometimes this is a fully manually modeled figure that is animated using special software.
In other cases, the 3D model receives "movement" thanks to motion caption technology. 3D models of characters have also become very popular in creating animated cartoons, simplifying the management of characters, making them more flexible and mobile.
https://artland3d.com/wp-content/uploads/2023/01/Art_Land_Logo.png
0
0
admin
https://artland3d.com/wp-content/uploads/2023/01/Art_Land_Logo.png
admin
2019-08-26 18:47:01
2019-09-23 20:25:26
3D Character Design Creator