Architectural CGI companies
Young Schwarzenegger in 2009, a running background outside a car window, roaring stands of a stadium, a running crowd of zombies, a medieval castle on a background of a peaceful landscape, twins played by one actor, a muscled man, and all kinds of disasters, over and over again destroying the long-suffering New York. How is this all done?
Right on-site or on a computer? That is, special effects or visual effects? They are often confusing, but still, computer graphics in cinema are visual effects. In architecture, the role of computer graphics is also creating visual effects to present the best ideas of specialists.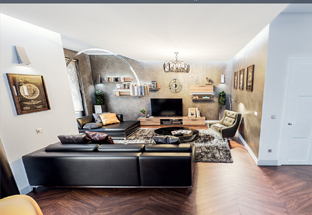 Computer graphics are now emerging as a science of hardware and software for a variety of images from simple drawings to realistic images of natural objects.
Computer graphics are used in almost all scientific and engineering disciplines for clarity and perception, the transfer of information. It is used in medicine, the advertising business, the entertainment industry, etc. Not a single modern program can do without computer graphics.
Work on graphics takes up to 90% of the working time of programming teams producing mass-application programs. The final product of computer graphics is an image. This image can be used in various fields, for example, it can be a technical drawing, an illustration depicting a part in an instruction manual, a simple diagram, an architectural view of the proposed structure or design task, and advertising illustration or a frame from a cartoon.
Computer graphics is a science, the subject of study of which is the creation, storage, and processing of models and their images using computers, i.e. This is a section of computer science that deals with the problems of obtaining various images (drawings, sketches, animations) on a computer.
Architectural CGI companies solve the following problems using computer graphics:
representation of the image in computer graphics;
image preparation for visualization
image creation;
implementation of actions with the image.
One of the distinctive features of computer graphics, in our opinion, is that any drawing made on a computer formally looks very professional. There were times when it took years to develop neatness, geometricity, the accuracy of lines and spots on a sketch, drawing surroundings and staffing.
Now all this can be automatically provided by a computer program, which takes much less time to master the basics. In conditions of the acute lack of time traditional for architectural CGI companies, computer graphics seem to be a great temptation.
What is CGI company
Working with computer graphics is one of the most popular areas of using a personal computer, and not only professional artists and designers are engaged in this work.
At any enterprise, from time to time there is a need to submit advertisements to newspapers and magazines, to issue an advertising leaflet or booklet. Sometimes enterprises order such work at special design studios or advertising agencies, but often they manage it on their own and with affordable software.
Now the majority of architectural companies and design studios have already completely switched to computer graphics, this is because the computer is indispensable in developing a design.
Companies such as McDonald's have been using computer graphics since 1987 for architectural design, seating, space planning, and kitchen equipment design.
But there is a big difference between working and sketching projects: a working drawing is only needed to convey information, and a sketching project not only conveys information but is also a work of art, it, like the architectural object itself, combines the functional and aesthetic sides.
Therefore, it doesn't matter to architectural CGI companies in what schedule the preliminary design was completed. For such companies, computer graphics are a matter of aesthetics and design techniques.
One of the best programs for architectural design, known for its simplicity, convenience, and functionality, is ArchiCAD – a graphical CAD software package for architects created by Graphisoft.
It is created for the design of architectural and construction structures and solutions, as well as landscape elements, furniture, etc.
Almost all ArchiCAD elements contain three-dimensional information. Thanks to this, one can "live" in the space of virtual architecture: change and supplement the building model, navigate it in real-time.
ArchiCAD visualization tools allow the customer to see the project with the eyes of  3D specialists.
Computer graphics have a special aesthetics of its own, in addition, as the history of recent decades shows, it is inextricably linked with the design process itself and this, according to many researchers, its true essence. According to 3D architectural specialists, computer modeling for them is a way of thinking.
These architects perform all stages of the design using a computer, and from here such impressive results come.
Therefore, if you are a staunch supporter of deconstructivism, then it would be logical for you to use a computer at all stages of design, and not just for presentation. In any case, such a position seems understandable and organic.
By the way, if you try to design in this way, you may change your attitude towards these areas of modern architecture and computer modeling.
Interactive computer graphics for an architectural walkthrough
Interactive computer graphics are also the use of computers for the preparation and playback of images, but the user has the ability to quickly make changes to the image directly during its playback, i.e.
it is supposed to work with graphics in real-time dialogue mode. Interactive graphics are an important section of computer graphics when the user is able to dynamically control the image content, its shape, size and color on the display surface using interactive control devices.
Historically, the first interactive systems are considered computer-aided design (CAD) systems, which appeared in the 60s. They represent a significant stage in the evolution of computers and software. In the system of interactive computer graphics, the user perceives on the display an image representing some complex object and can make changes to the description (model) of the object.
One of the principles of a modern architectural studio is to keep up to date, and therefore, in addition to creating mock-ups of houses, they also render 3D visualization services. If the customer does not have time or desire to order a model, the production of which will take more than one hour, but it is quite large in itself, then an architectural walkthrough is what you need!
https://artland3d.com/wp-content/uploads/2023/01/Art_Land_Logo.png
0
0
admin
https://artland3d.com/wp-content/uploads/2023/01/Art_Land_Logo.png
admin
2019-11-21 08:06:44
2019-11-21 08:10:55
Architectural CGI companies